SUVA (Asia Pacific Report/Pacific Media Watch): Two journalism graduates from Auckland University of Technology are in Fiji on a two-week climate change Bearing Witness project.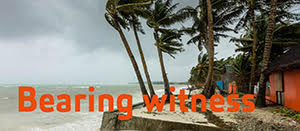 Two of AUT's Pacific Media Centre students, Pacific Media Watch editor Kendall Hutt and Debate acting editor Julie Cleaver, arrived in Fiji on Easter Sunday for the second year of the Bearing Witness assignment.
The graduate student journalists will be based at the Laucala campus of the University of the South Pacific in a partnership with that regional institution.
"This is a tremendous experiential opportunity for our students to explore stories related to climate change and Pacific islands resilience," said PMC director Professor David Robie.
Partners on the project include Te Ara Motuhenga (documentary collective at AUT), the Pacific Centre for the Environment and Sustainable Development (PaCE-SD) and the Regional Pacific Journalism Programme – both at the University of the South Pacific.