By Litia Cava
SUVA (Asia Pacific Report/The Fiji Times/Pacific Media Watch): Social Democratic Liberal Party leader and former military coup maker Sitiveni Rabuka says the rioting and assault on some Fijians of Indian descent 30 years ago were the deliberate actions of "selfish people" and he has apologised for it.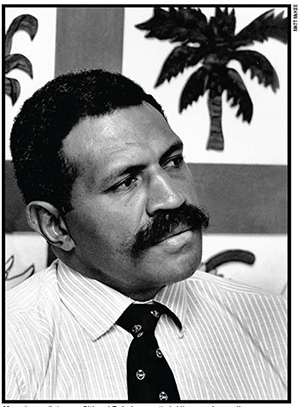 "Many of [the culprits] have been dealt with according to law," he said at the weekend about the violence of Fiji's first coup on 14 May 1987.
"I pray that God Almighty will grant all those hurting the grace to forgive me. To you I say, I am sorry."
Looking back 30 years, the former prime minister said he had on many occasions apologised publicly to Fijians of Indian descent and he continued to make reparations for 1987.
And as Fijians remembered the 30th anniversary of the events of Fiji's first coup yesterday, Rabuka said he emphatically acknowledged that coups were not the way to resolve any type of national situation in a civilised society.
Coups went directly against the very basic principles of human decency and rights and his Christian beliefs, he said.
'Fiji at crossroads'
"Fiji is at a crossroads and there are many wounds that need healing," Rabuka said.
"It is important that our leaders are more responsible with their actions and works, to encourage and promote peace and goodwill among Fiji's religious and ethnic communities."
He reassured all minority religious and ethnic communities that the opposition SODELPA was committed to assuring their security in Fiji because they also belonged to Fiji with the indigenous Fijians.
"We respect and appreciate your contributions to Fiji.
"We want to work together with you for a more peaceful, prosperous Fiji."
Rabuka added SODELPA would promote closer inter-ethnic cooperation, partnership and goodwill which would be the mainstay of a lasting peace that would prevent future political crises.
However, he said he did not start the "coup culture" in Fiji.
Litia Cava is a Fiji Times reporter.

PMW editor: Sitiveni Rabuka was then a lieutenant-colonel and ranked third-in-command in the Royal  — now Republican — Fiji Military Forces (RFMF) on 14 May 1987 and he staged a second coup in September 1987. Fiji has had four coups and the last military coup leader, Commander Voreqe Bainimarama, in 2006 was elected prime minister in a much criticised return to democracy in 2014.

This work is licensed under a Creative Commons Attribution-NonCommercial 3