NOUMEA (Asia Pacific Report/Pacific Media Watch): About 100 journalists covered the historic New Caledonian independence referendum last weekend, with media from Australia, Canada, Japan, New Zealand and the Pacific, as well as France and Tahiti, sending crews.
A spokesperson for the French High Commission said 100 journalists had been accredited for the referendum – 40 of them foreign journalists.
Local journalists also filed reports for Radio Canada and RTBF (Belgium).
David Robie, who reported from New Caledonia during the 1980s for Islands Business magazine, The Australian, New Zealand Times, NZ Listener and other media, returned to the French Pacific possession to observe the referendum.

He was also on board the Rainbow Warrior, the Greenpeace environmental ship that was bombed by French secret agents in 1985 during the height of "les évènements".

Dr Robie reflects in these articles:
PART 1: New Caledonia vote stirs painful memories – and a hopeful future
PART 2: Kanaky independence campaign rolls on … encouraged by ballot result
Gallery: Images of the media at work in New Caledonia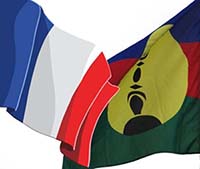 NEW CALEDONIA REFERENDUM: WHAT NEXT?
Asia Pacific Report coverage of the lead-up to the election and the aftermath is here:
https://asiapacificreport.nz/?s=New+Caledonian+referendum
Walter Zweifel of RNZ Pacific reports:
The New Caledonia file
In French on La Premiere TV's Journal Nouvelle Caledonie
What next for New Caledonia?
 
This work is licensed under a Creative Commons Attribution-NonCommercial 3